<![CDATA[]]>
Melbourne
is a colourful and vibrant city – literally. Its sidewalks and buildings are adorned with vivid and interesting street art, giving a nod to its accolade of being Australia's cultural capital and a hub for the country's creative community. Across the city you'll find little clusters of walls and buildings proudly decorated by local artists, most of which are included in the many Street Art Walking Tours (this is a thing) but if you fancy a DIY meander then these are the pathways and lanes where you'll find the best street art the city has to offer.
Hosier Lane

Arguably the central point for Melbourne's street art scene, Hosier Lane can be found opposite Federation Square. The quality of the street art found here is highly acclaimed, and has become a popular backdrop for photographers and bloggers. The lane is also known for its upmarket cocktail bars.
Union Lane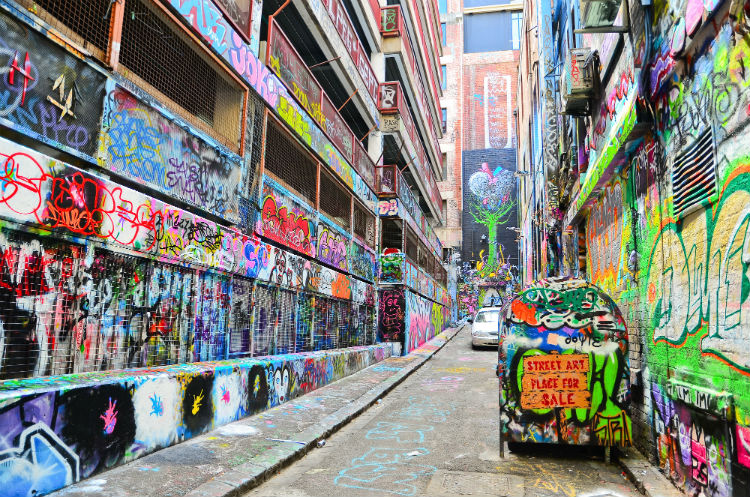 Along the city centre's Bourke Street Mall, you'll find the small opening to this 550-metre long pathway. An otherwise quiet street with no bars or cafes, this secluded lane's sole attraction is the miss-match of street art that covers almost every inch of its walls.
Degraves Street
Degraves Street in the Central Business District of Melbourne brings together two important aspects of Melbourne life: coffee culture and street art. The art deco atmosphere and alfresco dining gives off a Parisian appearance, but the down-to-earth street art and buskers help remind passer-by's that they are among the streets of sunny and relaxed Melbourne.
Centre Place
Centre Place might look familiar as it regularly features in many tourism campaigns for the city. Not only does it showcase some of the city's best street art, but specifically it is home to some of Melbourne's best examples of stencil graffiti. You'll also find a great selection of vibrant bars, cafes, restaurants, boutiques, sushi bars and shops.
Know of any hidden lanes that also showcase Melbourne's famous street art scene? Let us know in the comments.
--