<![CDATA[]]>
Kenya
is a once-in-a-lifetime trip is an understatement. Located along Africa's eastern coast, it is home to three of the continent's most notable national safari parks, plus has a beautiful shoreline overlooking the Indian Ocean.
Even though Kenya was not my first trip to Africa (having previously been to Cape Town, Zambia and Botswana) I was really excited to be given the chance to see a different side the continent and explore this iconic country (and try and spot some of the animals I hadn't managed to on previous safaris – namely the lion and leopard).
You might be aware that Kenya took a bit of a hit when the UK government issued a travel ban in 2014 warning against all but essential travel to Kenya's coast. Even though it wasn't the whole country, the areas effected included the beach resorts just south of Mombasa. The UK government has since lifted the ban and Kenya is now considered a safe place for British travellers.
The Kenyan Tourist Board has been working tirelessly to get the number of UK tourists back up to its previous levels – and to do so they recently invited 30 British travel agents to explore the country, with myself being put forward to represent Barrhead Travel. I don't think I need to explicitly tell you that this was an amazing experience – so I'm going to let my travel diary do that for you.
Day 1 – Nairobi National Park
After a seven hour flight, the last thing you want to do is to drive another four hours to your hotel. Thankfully our first day of adventure was Nairobi National Park – a sprawling savannah that surrounds the capital city where animals roam freely. Even on the short journey from the airport to the park we seen giraffes wandering in the distance.
Our accommodation for the night was the Nairobi Tented Camp, the only accommodation right in the heart of the park. If you've come to Africa for adventure, this is where you'll find it: there's no fences so animals can just stroll in, you can hear animal sounds in the night and the staff have to give you a safety briefing when you arrive (no walking outside in the dark by yourself!). Saying that, the camp was still comfortable with proper beds, en-suites in each tent and complimentary Wifi.
After we'd shaken off our jet lag we were taken to the nearby David Sheldrick's Elephant Orphanage, just in time for its afternoon feedings. Elephants aren't typically common in Nairobi – with this being one of the few places to get a glimpse of them – and are taken here away from threats before being slowly re-introduced to the wild when they are three years old.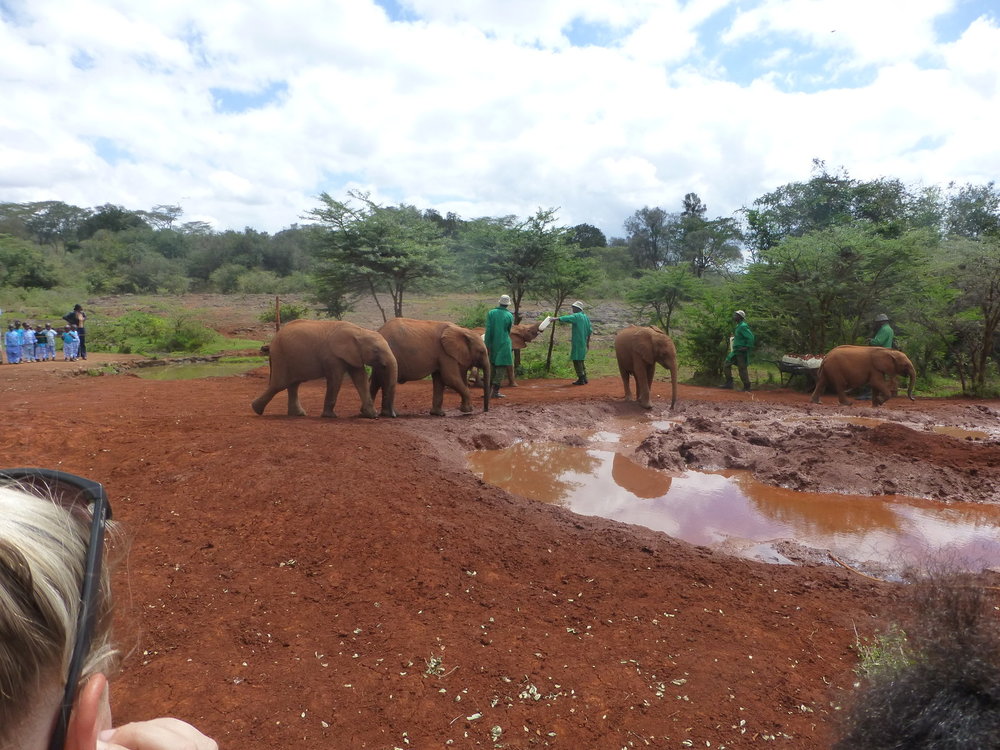 One tip for when you go on safari is to do more than one game drive as different animals prefer different times of day. While we were travelling between the camp and the Elephant Orphanage, giraffes and warthogs were front and centre. However, when we went out for a late afternoon game drive we saw something a bit different. The expert game drivers known where certain animals hang out and keep each other informed of where certain animals have been seen that day. He took us to a section of the park where another guest had been lucky enough to see a lioness in the morning. The game drivers also have sharp eyes for things moving in the bushes and were able to see what we couldn't: a lioness resting under a large bush with her cubs.
After our final game drive of the day, we closed our first night in Kenya by relaxing around the campfire with a beverage of our choice (gin, wine and certain beers were included in the price) while the sound of hyenas was heard in the distance.
The next morning we were awoken at 6am to catch out flight to Tsavo. A fairly simple and mundane thing usually – but not when you're in a safari park. The break of dawn is the perfect time of day for lion spotting, and sure enough there was one strolling along the road side in the early hours! How is that for a morning commute?
Day 2 – Tasvo National Park
On day 2, we left behind the exotic and dusty colours of Nairobi for the reddish hues of Tsvao National Park. Our accommodation for the night was Kilaguni Serena Safari Lodge – my favourite accommodation of the trip. The stand-out feature of the lodge was its restaurant and relaxation area looking out over a watering hole where animals come to drink (you can also ask reception to wake you up if a certain animal comes to drink in the night!). It's located close to the Tanzanian border and on a clear day you can see the peak of Kilimanjaro climbing over the horizon.
One my previous holiday to Africa, it was a lion and leopard that I hadn't been lucky enough to see. In Nairobi, I was fortunate enough to tick a lion sighting off my bucket list, but the leopard was still on the list. Until we went out for our evening game drive in Tsavo that is. The game driver told us we would be lucky to see one, but nevertheless he took us to all the places in the park that were popular with leopards (volcanic rock for example) and there the leopard was – just chilling by the roadside!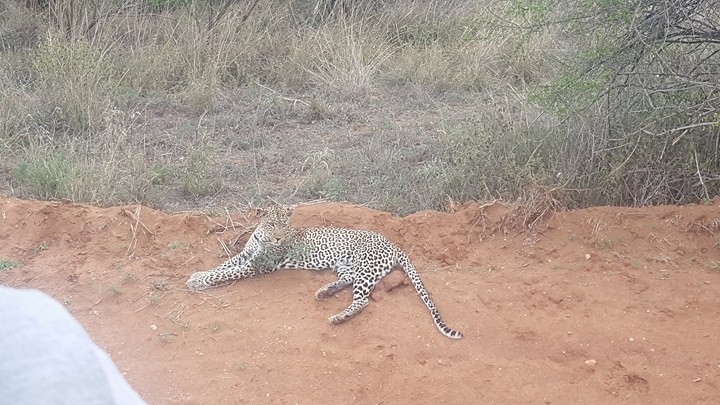 Day 3 – Mzima Springs and Glamping
At the start of Day 3, the organisers told us not to head to the restaurant for breakfast as they had something extra special in mind. Instead, we were taken straight out for an early morning game drive, where they parked the car at the bottom of Lion Rock. Turns out our breakfast was taking place here – an experience guests can actually pay for! They even took chefs with them and there was full buffet complete with hot food and an omelette station!
Afterwards, the game drivers from Kilaguni Lodge took us out for one last trip, to Mzima Springs to see the hippos. Hippos aren't always the easiest animal to spot (I hadn't seen any of previous trips to Africa) as they much prefer to bask in the water, so a trip to some springs is a must if you want to meet any. The springs themselves are set up with pathways and lookouts perfectly positioned for hippo spotting – and sure enough there was a small collection of them floating right in front of a lookout.
At Mzima Springs we were met by the manager from Severin Safari Lodge who was going to take us on to the next leg of our journey. This time we were heading to a luxury tented camp that was the definition of glamping and was designed with relaxation in mind. My tent had its own en-suite with private shower and toilet, double bed, and porch area while the wider camp had an open-air building that included a reception, library and dining room as well as separate buildings for a swimming pool and spa area, hall for events and a gym!
We went out for another game drive that evening – and spotted another leopard jumping up volcanic rocks! As a special touch, the manager of the tented site arranged for the game drivers to take us to one of the highest nearby peaks in the park for some champagne and nibbles with fantastic views of the breath-taking landscape.
Day 4 – Diani Beach
While Kenya is typically associated with safari holidays, it is also an amazing beach destination with an eastern coast that overlooks the crystal waters of the Indian Ocean. We were greeted at the Baoba b Beach Resort by enthusiastic native African dancers, and were handed fresh coconuts with the tops cut off for a refreshing drink. We were promptly given a tour of the resort which was massive and would be perfect for a wide range of holiday makers.
Africa wasn't new to me, but this was my first ever glimpse of the stunning Indian Ocean that the Baobab Beach Resort looks out on to. One of my favourite activities during the trip was the jet skiing that they had arranged for us that afternoon, which was another first. It was potentially the most invigorating but terrifying thing I had ever done, but after 30 minutes whizzing about the shoreline you pick up pace and find a speed that works for you.
Day 5 – Mombassa
Our stay in Mombassa was short, and generally most people book a hotel here to be closer to the airport on their final night. We stayed at the Sarova Whitesands that also overlooks the Indian Ocean and it is a fantastic all-round beach resort perfect for a wide range of travel personalities.
As the sun set on our final night in this beautiful country, the manager of the resort invited us for a private drinks reception in the beach hut with all drinks on him. Afterwards we headed to the restaurant and helped ourselves to the generous buffet options before relaxing back in our rooms ready for our journey back to the UK with Kenyan Airways!
As a final note, I'd like to personally thank you everyone at the Kenyan Tourist Board (both in the UK offices and the HQ in Nairobi) for inviting Barrhead Travel to be part of this educational trip. It's a beautiful country and shows a different side to the multifaceted continent of Africa. Everyone needs to be put it on their bucket list, even if they've already been somewhere else in Africa before.

--