We love sharing our staff travel diaries here on our blog, and today our resident blog writer is sharing one of her own travel stories. Morag, who works in the Social Media and Marketing team, was lucky enough to jet off to Disneyland® Paris last October to discover the magic for herself. Here's what she got up to.
I've always been a Disney super-fan and it's been a lifetime goal of mine to visit all the Disney theme parks. I was lucky enough that my parents took me to both Walt Disney World Resort in Florida and Disneyland Park in California when I was a child but we'd never made our way to Disneyland® Paris. As an adult, I'm now lucky enough to work in the travel industry where trips abroad are a part of the job, and last year I was chosen to be part of the annual Disneyland® Paris trip. Here are my top highlights from across the weekend.
1. Staying in a Disney® Hotel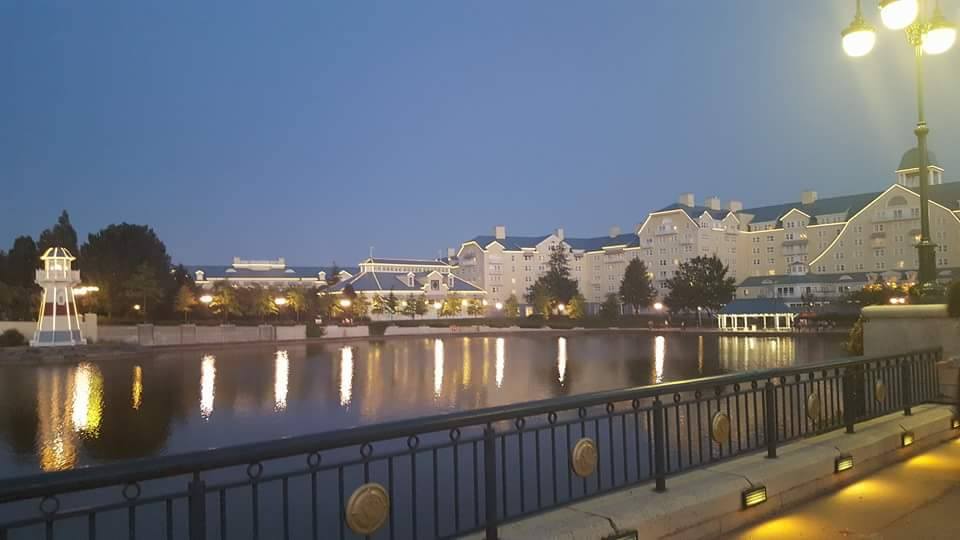 Most children aren't overly picky about hotel choices, but in 1997 I went in a huff with my parents because we didn't stay in a Disney Resort Hotel. So getting to stay in the heart of Disneyland® Paris at an official resort hotel was one of my biggest highlights. We stayed at the Disney's Newport Bay Club a beautiful 4-star maritime-themed hotel looking out onto Lake Disney. Staying here meant we were only a 10 minute walk from Disneyland® Park and Walt Disney Studios® Park and were able to make use of Extra Magic Hours. Our rooms were also amazing. I had a twin room, with two double beds and en-suite, which had a dressing area separate to the bathroom itself. There was also a British plug, which was handy given that I regularly forget to pack an adapter.
2. Extra Magic Hours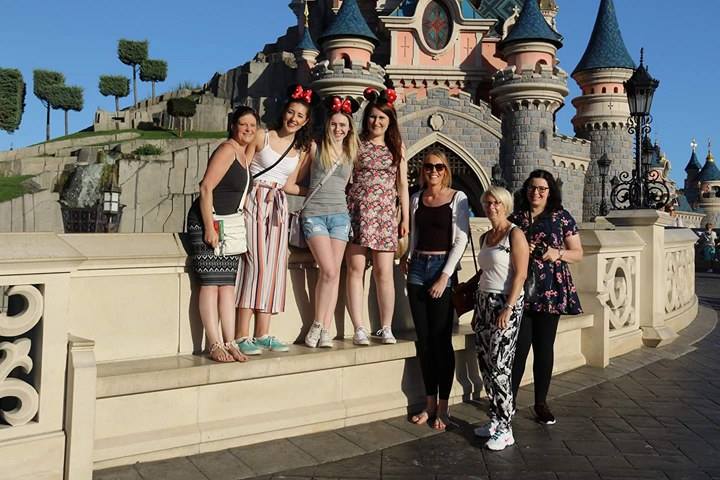 I can't say I'm normally an early riser, but when you're staying in a Disney® Hotel and have been provided the gift of Extra Magic Hours I'll happily be ready for 8am. And what sleepiness I did have, left my body after we chose the iconic Space Mountain: Mission 2 as our first ride of the day.
Extra Magic Hours are open to all guests who stay in a Disney resort hotel and allows early access to certain areas before the general public. And by mid-afternoon the crowds began to pick up so we were really grateful that we had these extra two hours to make it round several of the rides in Discoveryland and Fantasyland. At the strike of 10am we were ready to explore the rest of the parks while other visitors were just coming through the main gates (our first point of call Indiana Jones and the Temple of Peril).
3. The rides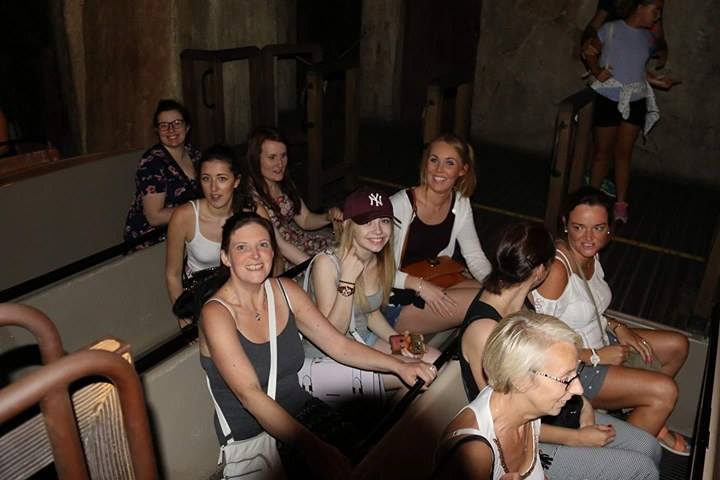 The Twilight Zone Tower of Terror™ was my favourite ride in Orlando and I was really excited to drop 13 stories again (as strange as that might sound). The Paris version didn't disappoint and has stuck to the same formula that has made its American counterpart so successful. Even now, The Twilight Zone Tower of Terror™ still remains one of my favourite rides across all the parks.  Our VIP FASTPASS® tickets also meant that we were able to join a VIP queue so we didn't have to wait very long to step into the famous elevator. The VIP FASTPASS® tickets are only available to guests who stay in certain Disneyland® Paris hotels and allows unlimited access to the separate FASTPASS® lanes within the two parks.
This was not the only ride that that was memorable for me. There are numerous fun and family-friendly attractions across the park. Some of my other favourites were Crush's Coaster®, Indiana Jones™ and the Temple of Peril, Peter Pan's Flight and Rock 'n' Roller Coaster starring Aerosmith. I also really enjoyed exploring the Sleeping Beauty Castle that told the story of Aurora through stain glassed windows.
4. The shopping in Disney Village®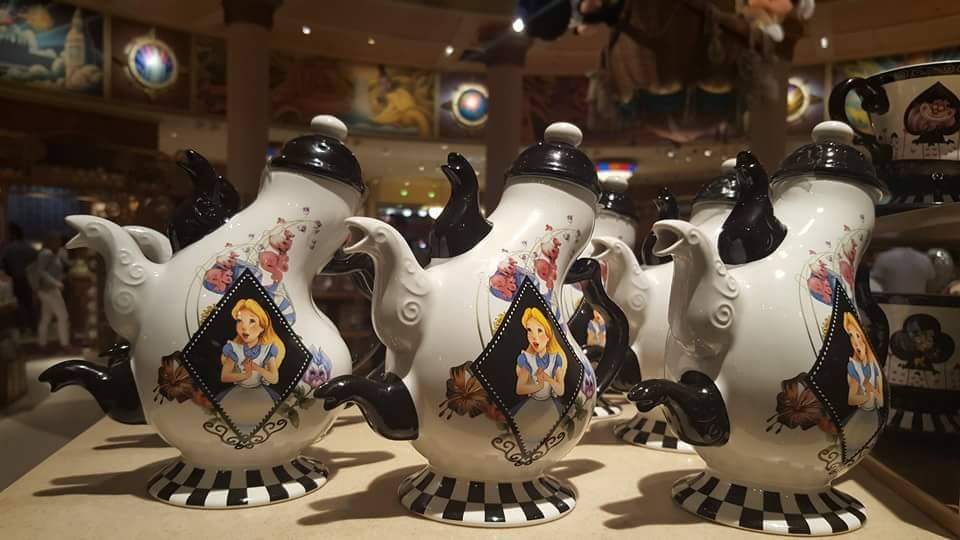 Even though I'm 26, I still like a trip to my local Disney store but there's only so much memorabilia you can fit into one shop. So when I stumbled across the expansive shopping in the Disney Village® there was so much I wanted to take home. For myself I purchased a pair of classic Minnie Mouse ears (but I went for red satin as opposed to black velvet) and for my parents I took home a Christmas decoration featuring my parents' favourite Disney character, Bambi.
5. Disney Character Dining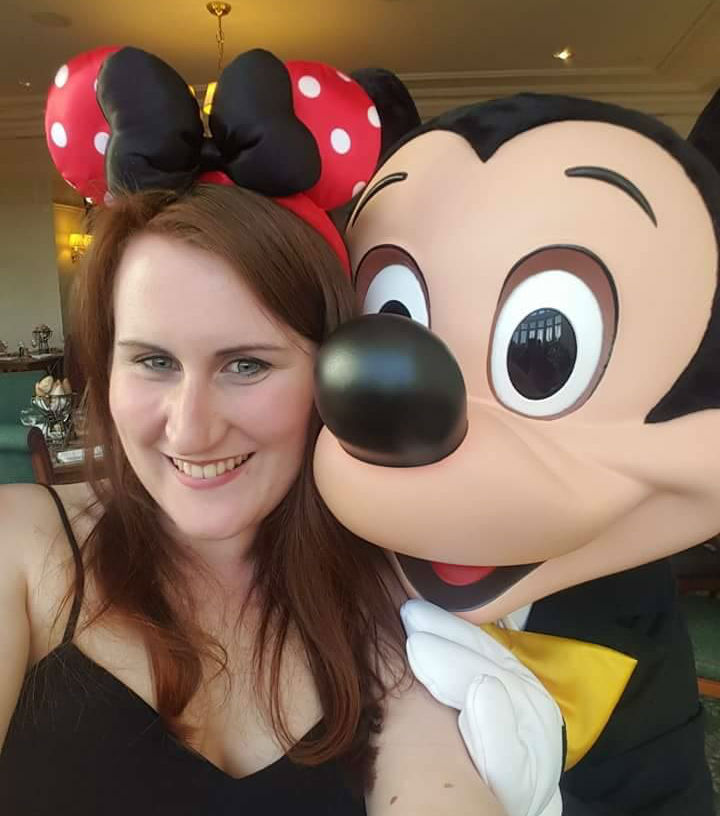 A weekend in Disneyland® Paris is not complete without a meet and greet. On our final evening the Disney team booked us a large table in their main Disneyland® Hotel where we were treated to an all-you-can-eat-buffet. Some special guests also joined us in the shape of Tigger, Eeyore, Goofy, and Mickey Mouse himself!
6. Disney Dreams®!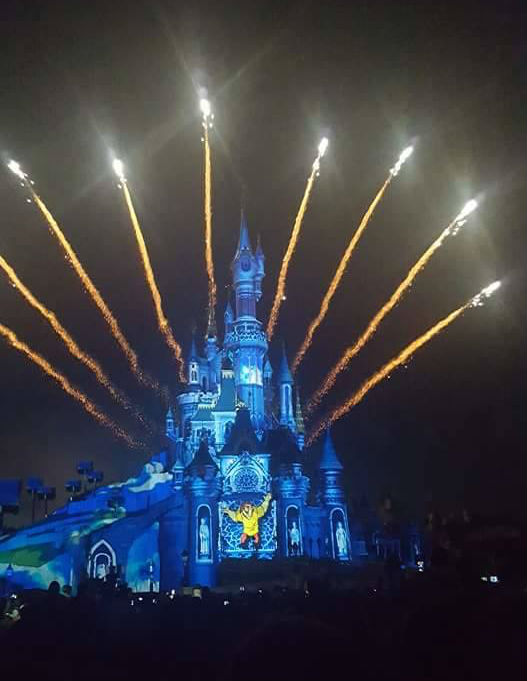 For the cherry on top of our final evening we were treated to a VIP viewing of the Disney Dreams®! light show. An award-winning extravaganza that illuminates the Sleeping Beauty Castle with projections of some of Disney's most treasured characters. The movies chosen ranged from classic choices such as Peter Pan and The Lion King, through to modern-day magic like Frozen (we all had a lump in our throats as Let it Go beamed through the park).