Madrid is a popular city break destination for many reasons. Firstly, its location in central Spain makes it an obvious choice for city-lovers who also want to embrace some sun. Secondly, it is rich in history and art, where culture-lovers will never run out of museums or galleries to explore. Thirdly, is its ease of access. You can book direct flights from a range of UK airports, including Edinburgh, Manchester and London Gatwick, and there's a new route from Glasgow launching in October.
The one challenge with Madrid is choosing what to do if you're only there for a few days, and what order to do it in. Below we've compiled a three-day itinerary that encompasses the must-see sights of the city ordered in a way so you'll get round them all in one weekend.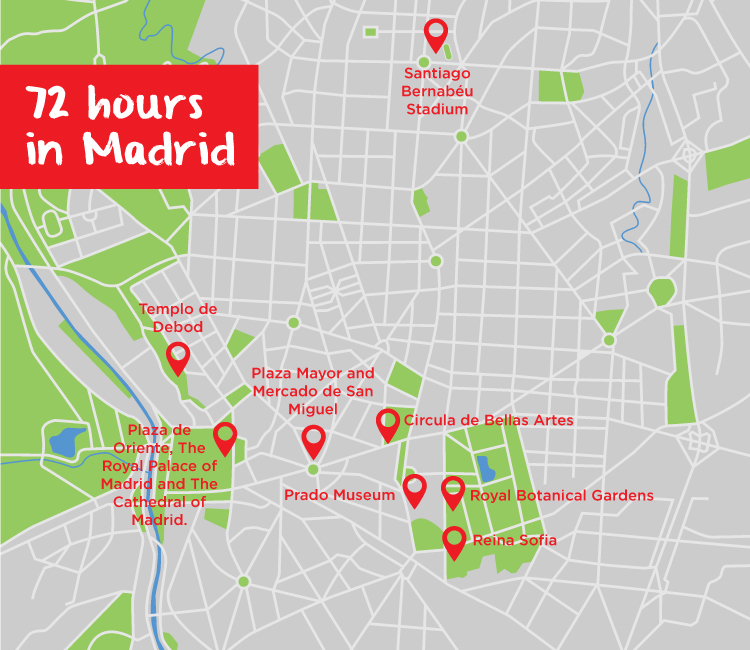 Day 1
Start your holiday at the Plaza de Oriente. This expansive square is the central hub of Madrid where an impressive collection of must-see sights are within walking distance. Our first stop would be the official residence of Spain's royal family, the Royal Palace of Madrid. Though the family don't actively live here, is it is the location of official events and the place is free for tourists to wander round.
Just across from the palace is The Cathedral of Madrid – a must see stop even if it's just to climb to the roof and admire the stunning landscape of Madrid.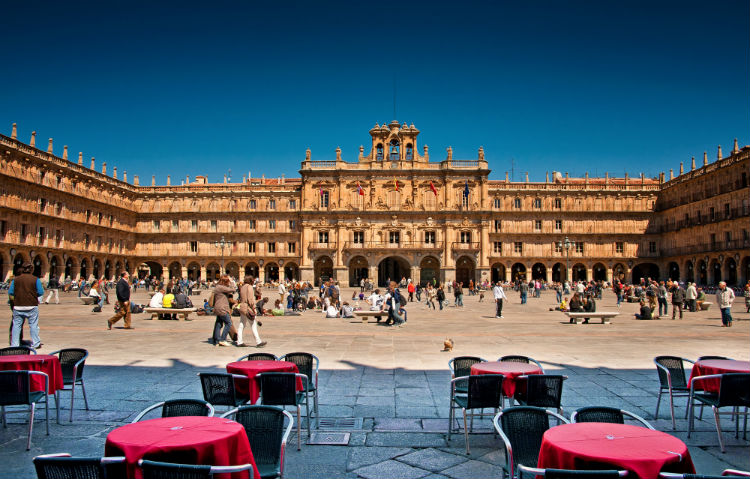 As you begin to enter the late afternoon we recommend taking a 10 minutes' walk to another square, this time Plaza Mayor. This historically significant square is where symphonies and tournaments (even executions) took place in earlier years. These days it's a popular tourist spot where people go to soak up the Madrid atmosphere.
By this point, your stomach is probably getting a bit cranky. We recommend stopping by one of Madrid's main foodie hubs: the near-by Mercado de San Miguel. Despite being located in the main tourist district and being considered a must-eat destination, the prices of the numerous vendors are purse-friendly. In fact, you can easily nab yourself a filling lunch for around 10 euros.
If you're looking for somewhere that casts a beautiful urban silhouette on the sunset and don't mind wandering slightly further west of the city centre, you should head to the Temple of Debod. This is an authentic Egyptian Temple which isn't exactly what you would expect in a Spanish city, but it is considered a must-see while visiting.
Day 2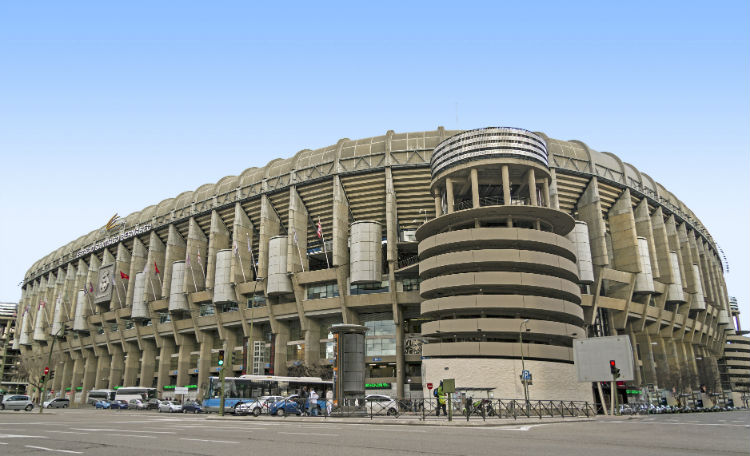 Madrid is home to one of the world's most successful and famous footballs teams. Many football fans from across the world step onto the stunning streets of Madrid for this reason alone.
Even if you're not in Madrid due to a love of football, we would still recommend taking a trip to the Santiago Bernabéu Stadium. The official tour will take you round the stadium and include stops at the presidential box, dressing room, press room and the 'best club in history' room plus you'll be treated to an impressive panoramic view of the stadium.
Afterwards you can choose to stay in this northern area of the city and explore the bars and restaurants, or head back into the city (via a direct Underground link). Whichever you choose, you won't regret a night out in this lively city – especially if you hit up one of the many sangria bars.
Day 3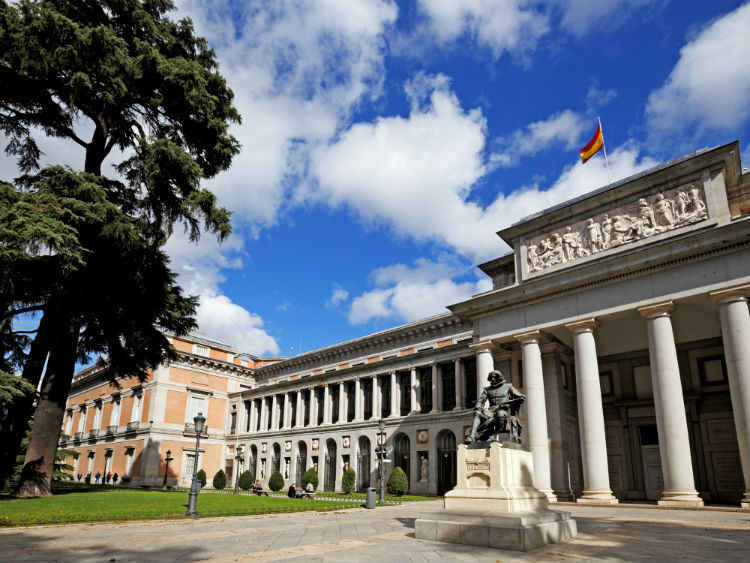 On your final day we recommend wandering into the eastern side of the city centre for a day of admiring art and walking through immaculate urban gardens. The Prado Museum is considered one of the best museums on the planet, and offers free admission between certain hours. The building itself is also of note – it was opened by to the public in 1819 and was designed by architect Juan de Villanueva.
Located just opposite the museum is the Royal Botanical Garden. Clocking in at 8-hectares within Murillo Square, you can find yourself spending hours slowly wandering its leafy paths completely forgetting that you're in the centre of one of Europe's most famous cities. Here you'll discover lakes, labyrinths, squares, fountains, and lots of flowers – there's even a small veggie garden in the summer!
If time is on your side, head to the near-by Reina Sofía where you'll find one of Madrid's biggest collections of modern art including Picasso, Miró, Kandinsky, Dalí, and Bacon.
When the sky begins to dim on your last day in Madrid, slowly walk over to the Circulo de Bellas Artes. A 12 minute walk from the Prado Museum, this art centre, performance venue and cinema has a lovely roof-top bar where you can slowly watch the sun set on your Madrid escape.