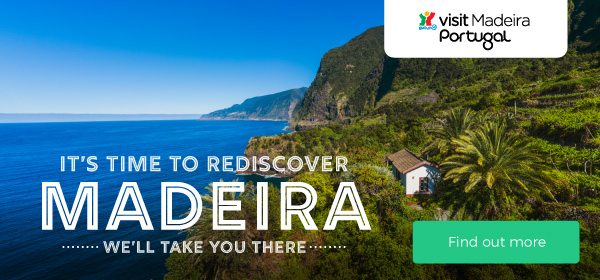 Madeira, an archipelago of islands in Portugal, is the perfect holiday stop for all ages and tastes. Hosting a diverse offering of sites and natural wonders, whilst maintaining a consistent subtropical temperature – it is no wonder Madeira is repeatedly voted Europe's top island destination.
The island's landscape is a treasure trove for nature lovers, adventurers, and those who like to kick back and admire the scenery. From volcanic coves and towering rocks to thick forests and tranquil streams, from quaint towns and historic sites to crystal seashores, natural pools and black sand beaches – Madeira holds everyone's version of paradise.
Madeira is home to the Laurissilva Forest, a UNESCO World Heritage site at least 20 million years old. The exotic tree, flower and animal species that live in the misty forest make for a truly enchanting visit. Engulfing almost 20% of the island, the forest is a playground for hiking, extreme sports, cloud-capped viewpoints, and freshwater swims. You could visit the forest each day of the week, enjoying a completely unique experience every time.
When it comes to gastronomy, Madeira is a foodie's wonderland. The cuisine is based on locally sourced, fresh ingredients that tantalise the taste buds. Browse any menu on the island and find a wide range of traditional dishes to choose from. Some favourites include 'tuna steak with fried corn', "black scabbard fish fillet with banana " 'skewers', 'passion fruit pudding' and 'limpets'. From dinky locals to prestigious Michelin-starred restaurants, you are guaranteed to be well-fed on this island.
Madeira's wines are renowned worldwide and have been for centuries, often referenced by Shakespeare in the 1500s. Whether ordering by the glass in a local eatery, or by immersing yourself in one of Madeira's many vineyards – tasting their home-grown wine is a must. The most popular grape varieties include Sercial, Boal, Verdelho and Malvasia. To mark harvesting season in late August-September, an annual wine festival takes place to exhibit their speciality with both traditional and modern-day entertainment to celebrate the occasion.
This is just one of Madeira's annual events that are sprinkled throughout the year – the island is bustling with festivals, parties and celebrations. And everyone is invited! The people of Madeira are the beating heart of the island and delight in sharing their beloved home with guests old and new.
Find out for yourself, why this paradisical island is known to visitors as 'The Pearl of the Atlantic'