#NewToCruise: on board the MSC Sinfonia
Arriving in Venice I was simmering with excitement about my maiden voyage, although as a newbie to cruise, unsure of what to expect. My first impression of the MSC Sinfonia was how big she is – and she's considered a "mid" sized ship. I overwhelmed by the scale of her and couldn't wait to get on-board to explore. There she was, my floating luxury hotel for the next 7 days.
Within minutes of boarding it became clear that my week on the ship was going to be an amazing experience. I'd read that MSC have a unique scent on their ships and the Sinfonia was no exception. That subtle scent of summer warmth and citrus soon became the smell of home for me, welcoming me back from my many on-land adventures.
The facilities on-board rival that of any 5* hotel and the staff fast became firm friends. It was lovely having familiar faces welcome you back from each of your excursions. They seemed genuinely excited to hear all about the day's adventures.
Our First Port
Our first port of call was Croatia, and we visited Split, a must-see destination for all. This magical city stole my heart, and the lavender-scented streets and delicious food sent my senses into overdrive. The amazing fashion streets on the Riva and Marmontova Ulisa was a shopping heaven! I ate, drank and shopped 'till I dropped in Split. We had such a fantastic first day on land.
Back on-board that evening, the theme on-board the ship was 'white night'. Dress codes aren't mandatory but we got involved at every opportunity. The food was unbelievably good. I even forgot to take the obligatory 'food pic' – very unlike me!
First Day at Sea
After leaving Croatia we sailed down to the Greek islands – our first whole day at sea. This was the most memorable day of the whole trip for me. Which says a lot given the amazing cities I visited and stops we made. As we sailed down the Adriatic heading for the Aegean Sea, even in October the sun beat down on us. The beauty of a cruise is the constant breeze created from sailing. Even in 28 degree heat you're not uncomfortably hot.
The pools on the top deck were salt water plunge pools. And were a fantastic spot to have a dip post-sunbathing. The endless horizon was hypnotising. Sunset at sea is like nothing you've ever experienced before. Very calming and serene, and something everyone needs to experience.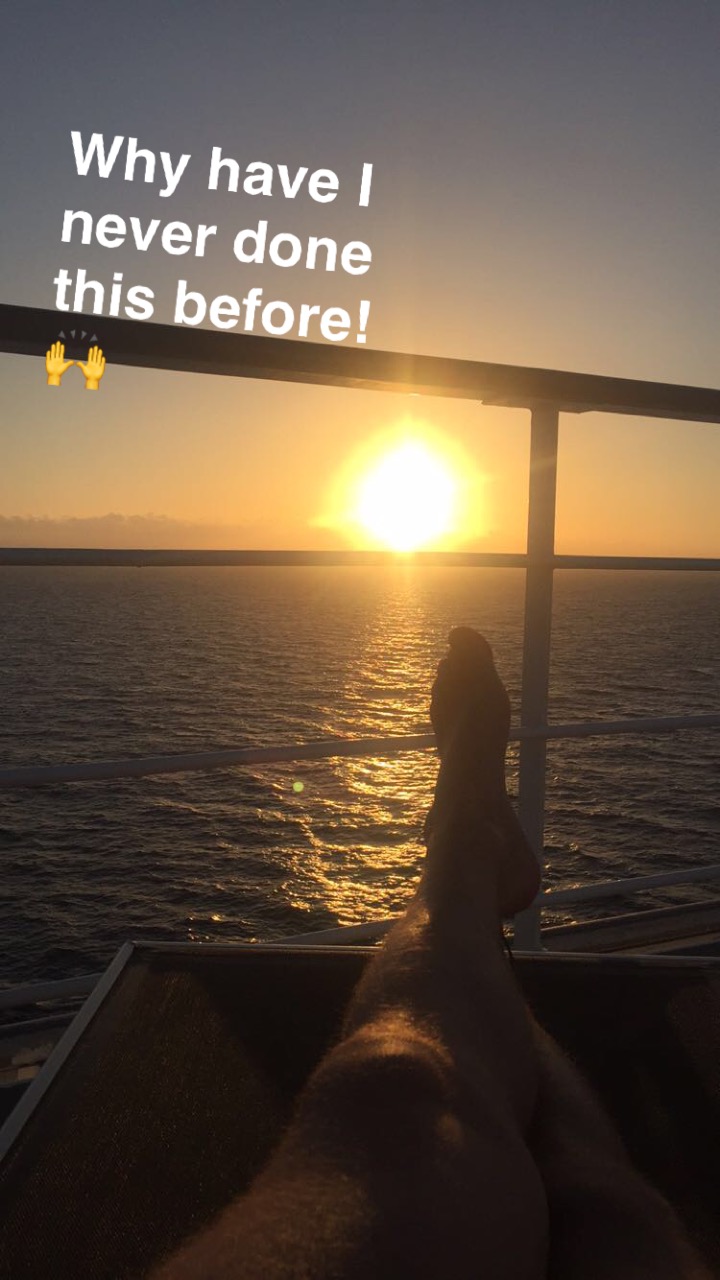 We'd opted for the "Aliggrissimo" drinks package. Thiso provides us with fantastic value and paid for itself throughout the trip. Our prosecco flutes were constantly refilled. MSC certainly don't scrimp on the quality of their prosecco either – we were loving life! I asked myself, many times, "why have I never cruised before?"
After a fantastic day and having experienced my first sunset at sea, we took to our cabin and had an amazing sleep. I slept like a baby the whole week, thanks to the ever so slight rocking of the ship lulling me off to sleep. I can't remember the last time I slept so well. Our next day was a big day, with a stop in Santorini in the morning and afternoon then Mykonos in the evening. Both destinations took my breath away, I didn't want to leave!
Hello Greece
After Greece, we were back up the Adriatic with another day at sea which was as amazing as the first one. By the end of the day I had finished the book I was reading, awaiting the breath-taking sunset again. This picture doesn't do the real thing justice. It's something you need to see first-hand to experience the tranquil beauty and stillness.
Hello old Friend
Back in Croatia the next stop was Dubrovnik, and we were welcomed by that beautiful scent of wild lavender again. This beautiful city is known locally as "The Pearl of the Adriatic." A very fitting name give that the afternoon we had visiting this ancient city was such a precious experience.
Last but no means least heading towards Italy again. This time we were taking in Ancona, a port city with a fantastic shopping street called 'Guiseppe Garibaldi.' Not "Gary Baldy," as I attempted to pronounce it in my Snapchat story.
Finally we were heading back to the beautiful water logged streets of Venice, where we then took our transfer to the airport and flew home. I am completely #ConvertedToCruise
Totally Converted
Apart from being the perfect blend of relaxation, new experiences and adventure, the main takeaway I had from my trip was asking myself why I'd never cruised before. It was an amazing experience being on board this stunning vessel and to waking up and go exploring in a different country, city or town every day.
My inner captain Jack Sparrow has been awakened and I'm so excited to begin planning my next adventure to appease him.